Special Community Presentation for Medical Professionals Featuring Brain and Spine's Dr. Khurram Nazir
June 13, 2022 | Brain and Spine Specialists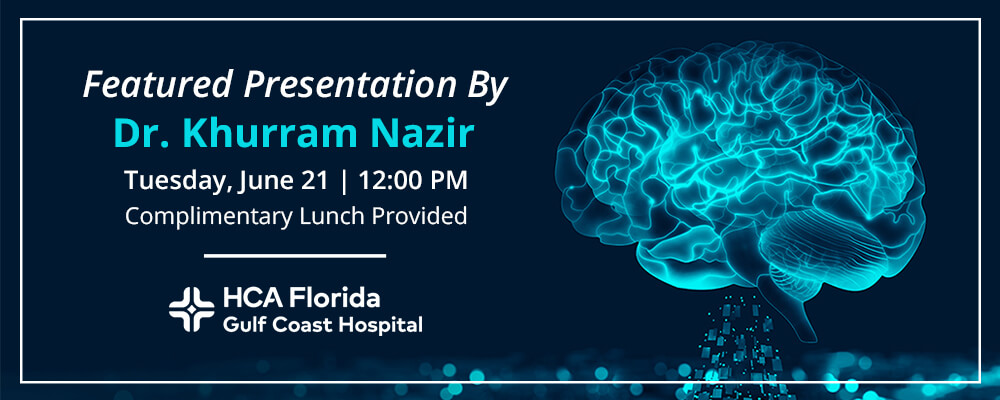 Hosted by HCA Florida Gulf Coast Hospital
While patients are our top priority, staff members of the Brain & Spine Specialists also spend time teaching and giving presentations focused on neurology. In fact, they are also clinical faculty members of the Alabama College of Osteopathic Medicine in Dothan.
Who?
Khurram Nazir, MD, serves Brain & Spine Specialists as a qualified neurologist and neurophysiologist. He is board-certified in both clinical neurophysiology and headache medicine. Dr. Nazir brings his extensive neurological experience to patients in Panama City, Florida, and the surrounding areas.
Dr. Nazir strives to continue advancing in the neurological field. In addition to being an American Board of Psychiatry and Neurology diplomate, he is also a member of the American Academy of Neurology, the American Association of Neuromuscular & Electrodiagnostic Medicine, and the Florida Medical Association. Dr. Nazir is also part of the clinical faculty at the Alabama College of Osteopathic Medicine in Dothan.
Where?
Formerly known as Gulf Coast Regional Medical Center, this presentation will be given at HCA Florida Gulf Coast Hospital. Dr. Nazir will be presenting in the large HR classroom in the back of the hospital. This is also the side that is opposite of the ER entrance.
When?
Don't wait too long to RSVP – This presentation is right around the corner! Any medical professional is invited to join us for a complimentary lunch and featured neurology presentation by Brain and Spine's Dr. Khurram Nazir on Tuesday, June 21, 2022, at 12:00 noon.
How to RSVP
To save your spot, please text Amanda Ardery at 850.461.5298. If text is not available, please call or email Amanda.Ardery@hcahealthcare.com to save your spot. Gulf Coast Hospital and Brain and Spine Specialists are providing a complimentary lunch, so the sooner we know you are coming, the better!
We hope to see you there!